St Francis Xavier Primary School has been serving the Catholic parish communities in and around Box Hill since 1928. Our devotion to faith and education is supported by a dedicated teaching team and strong and productive community relationships
From Prep to Year 6, our students develop their spiritual and academic awareness in an environment that supports the gospel values of trust, respect, forgiveness and care.
Students are actively engaged in their education and embrace a comprehensive curricular and extra-curricular program.
Our classrooms are places of inspiration, challenge and collaboration.
Our teachers cater for the different learning styles of children with quality learning outcomes their constant focus.
Some of the school's physical resources and features include:
A Multi Games Area
A Modern Library – The Discovery Centre
Air Conditioned Classrooms
Computer Access and Interactive Whiteboards in every classroom
Chromebooks for every child in Years 3 to 6
Selection of iPads and Chromebooks for students in Prep to Year 2 to share
Adventure Playground
An Art Room and an Extensive Sporting Program and Natural Grass Oval
A New Heart Space Development (completed ln late 2016)
At St Francis Xavier we value and enact the values of:
Care & Compassion

Striving to do your best

Honesty and Trustworthiness

Integrity Respect
Responsibility

Understanding, Tolerance & 

Inclusion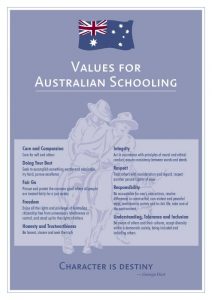 We believe in pursuing and protecting the common good where all members of our community are treated fairly.
All of our students will enjoy the rights and privileges of Australian Citizenship and stand up for the rights of others.